What's good, and what are you currently reading?
I'm currently busy with:
Morning Glories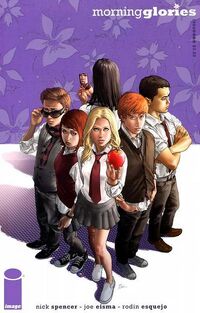 The first issue was free the day I downloaded comixology so I got it just to demo the app. It was kinda good, so I got volume one... and I'm hooked. There are gifted youngsters who are being held against their will as students at Morning Glories Academy, and there is some supernatural/sci-fi thing going on behind the scenes. There are plot holes, contrivances, the supernatural thing hasn't been explained enough yet for me to care, but there is major potential. A couple of the characters are so good they made me put down my phone and ponder at life. There are clever twists and interesting developments, cliffhanger stuff and more. So, it is a very inconsistent story, but the highs more than make up for the lows, and they are the sort of highs that are missing from other stories. Don't judge it without trying it - it's a lot better than you'd expect.
Transmetropolitan
A classic by Warren Ellis. Lots of social commentary, and many lulz.
It chronicles the battles of Spider Jerusalem, infamous renegade gonzo journalist of the future,[2] an homage to gonzo journalism founder Hunter S. Thompson. Spider Jerusalem dedicates himself to fighting the corruption and abuse of power of two successive United States presidents; he and his "filthy assistants" strive to keep their world from turning more dystopian than it already is while dealing with the struggles of fame and power, brought about due to the popularity of Spider via his articles.
I finished the fourth issue a month ago and I'm keen to get back.